Sport Dogs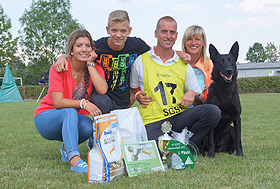 Supporting sportive dog handlers is another important part within our range of offered services. So we meet the demands of our customers.
Dog sports, no matter if agility, obedience or IPO, is enjoying great popularity from young and old. We are training and handling our own dogs in dog sports, e.g. IPO, KNPV, agility and obedience and so we took part in several national and international championships.
The permanently raising requirements for positive training and positive vibs are making this field of tasks interesting and versatile.
Today they take care that a dog performes all exercises according to the regulations quickly, exactly and by showing a positive charisma.
We are making big efforts to know all modern and new training methods and apply them to the dog-dog handler teams at the highest stage. Thats why the effort and time for IPO training has been increased exponentially.
We will transfer our knowledge now and in future to sportive dog handlers and their dogs appropriate to their breed, age and training level.
Basically we are gearing to our own quality standards to confine in quality from other comparable service providers and to meet the requirements of our customers even better.