Air freight - Through the nose, directly on the plane...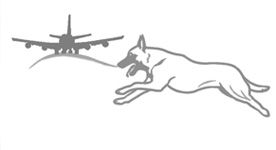 September 11, 2011 heralded a new turning point in civil aviation. Now it was also to be expected that violent terrorists would hijack planes with the intention of destroying targets on the ground. Since then, security measures in aviation security have been tightened.
This applied not only to people and their luggage, but also to freight and mail.
Due to many aspects, air traffic is an attractive target for attacks, with the aim of achieving the highest possible number of casualties among the civilian population.
For the effective and efficient fulfillment of aviation security tasks, the use of explosives detection dogs is required.
The aim is to prevent the introduction of so-called IEDs (unconventional explosive and incendiary devices) over passengers, personnel, baked goods, goods and goods, cargo and on-board supplies.
Since April 2013, specially trained explosives detection dog teams certified by the Federal Aviation Authority (LBA) have been deployed.
The SDC has been training dogs specifically for this area since 2014.
With its special know-how, the SDC has now been approved as a competent training center for the search and control of air freight under the LBA number 1271 since 2020.
Our teams are educated, trained and coached in-house far beyond the standard.
As a 100% means of control, they supplement the proven X-ray technology and explosives trace detectors.
This is used to declare air freight or air mail from unsafe to secure freight using X-ray technology, explosives trace detectors and/or explosives detection dogs.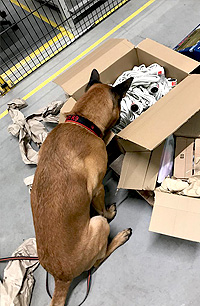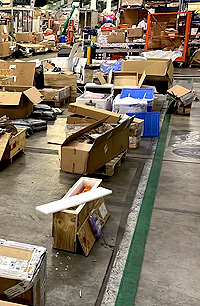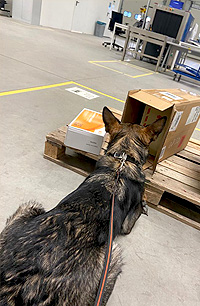 Why cargo inspections?
Each unsafe piece of cargo must be subjected to a control method listed in the Implementing Regulation (DVO 2015/1998) before it can be loaded onto the aircraft
This measure enormously minimizes risks such as terrorist attacks or acts of sabotage, which pose a major threat to aviation security
For example, attacks by explosive devices
Control by explosive detection dog (EDD = explosive detection dog)
The most effective way of locating an explosive and incendiary device is to use an explosive detection dog as a control measure
Freight items with a high density (so-called DARC Alert) or large, bulky packing dimensions push the usual control methods to their limits
The explosive detection dog can cover much more cargo volume within a very short time than conventional detection devices
In addition, time-consuming technical errors are avoided, which cost an enormous amount of time and slow down the process unnecessarily
Another big advantage is that large individual pieces of freight or even vehicles that do not fit through the X-ray system can be searched and made safe
Our specially trained and certified explosives detection dogs are precisely conditioned to present a passive and precise reporting behavior when explosives are suspected
This means that the status "SPX by EDD" can be assigned with the help of our teams after a short period of use
Control by hand search (PHS), visual check (VCK) and explosives detection device (ETD)
Equally important are other control methods such as manual searches, visual checks and detection devices
These methods are required if, for example, a shipment cannot be searched by the explosives detection dog because hazardous substances, liquids or powdery objects are involved
In the context of all control methods, almost every shipment can be made SECURE
Certifications
In order to be able to use all of these control methods, special training and certification is of course required
Our employees are, on the one hand, an explosives detection dog team in accordance with Chapter 12.9 of the Annex to Regulation (EU) No. 2015/1998 -
and additionally as an inspector according to number 11.2.3.2 (without technology) of the appendix of the DVO (EU) 2015/1998 (freight and mail without technology), approved by the responsible aviation security authority Luftfahrt-Bundesamt (LBA)
Benefits for the customer
Have we aroused your interest?
Then let the advantages convince you!
Experience and knowledge in air freight through existing orders
Autonomy and independence in the process through certified teams
Flexibility in working hours
Flexibility on site
Family-run company